Bergen Village, also known as simply Bergen, is a location in CrossWorlds. It is a small mountain village located at the top of Bergen Trail.
Layout
Bergen Village is a maze of narrow alleys and tightly-clustered buildings. At the north end of the village, a large plaza holds a teleporter that is connected to CrossCentral. Just north of this is the village's main building, a former inn around which the rest of the village was built. It is currently used as a greeting hall.
While all the main areas of the village are immediately accessible, several sub-areas are tied to quests. The Cave of Aspiration is unlocked during the Trial of Aspiration quest, the Cave of Progression is unlocked during the Trial of Progression quest, New Mine #1 is unlocked during the Explosive Debugging quest, and the Omni Gilders Basement is unlocked during the Pushing Bases quest. The Holiday Man Cave is only unlocked during the date- or Bonus Code-locked Gifting for Fun! quest.
Connecting Regions
The regions adjoining Bergen Village are Bergen Trail via Bergen South, Temple Mine via Temple Mine Entrance, and Maroon Valley via the sky rails in Diving Railway. The Ye Old Inn Teleporter in Bergen North connects directly to CrossCentral in Rhombus Square.
Rooms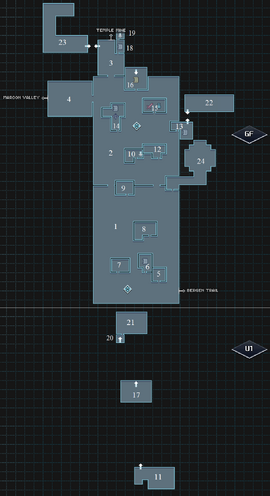 Chests
Bergen Village has 17 chests in total.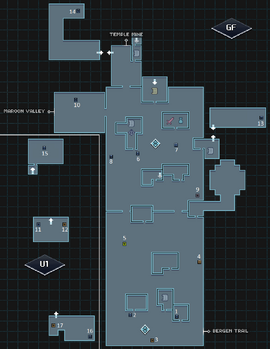 Enemies
Botanics
Bergen Village shares most of its destructible botanics with Bergen Trail. The Sprout of Valor rare destructible is on top of a roof in Bergen South. You must travel south on the rooftops from the Bergen North to reach it.
Traders
Most traders in Bergen Village are members of Bergen Trade & Metalwork, located in Trader's Den.
Bergen Heals – Located in Trader's Den
Bergen Buffs – Located in Trader's Den
Bergen Weapons – Located in Trader's Den
Bergen Head – Located in Trader's Den
Bergen Torso – Located in Trader's Den
Bergen Legs – Located in Trader's Den
Bergen Loot – Located in Trader's Den
Bergen Metals – Located in Trader's Den
Bergen Sets – Located in Trader's Den
Hatmaker – Located in Bergen North. Available after completing Fancy Tophat
Gem Dealer – Located in Trader's Den
Shops
There are two shops in Bergen Village, both in Shop (of course).

Bergen Provisions – Located in Shop

Bergen Weaponry – Located in Shop
Quests
The quests that can be started in Bergen Village are:
A New Home DLC Changes
The A New Home DLC adds several new quests and associated content to Bergen Village. Sao can also be encountered here.
Rooms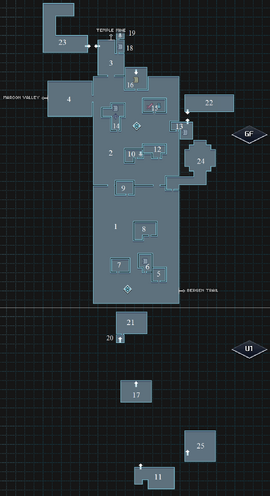 Chests
The DLC adds one additional chest, which is part of a quest and not tracked for completion.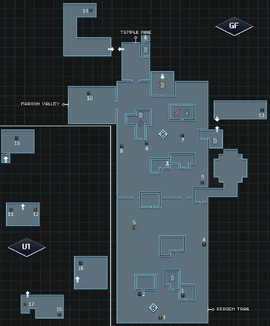 Quests
Role in the Plot
In CrossWorlds
Bergen Village is the first destination of Seekers following the Track of the Ancients. The village was originally a mining town, gathering resources from Mount Bergen. However, after their mines broke into and destroyed a temple of the Ancients, the Track began to fight back, taking over the miners' equipment and overwriting the mine with a new temple. Seekers arriving in the village are required to meet with the Mayor, after which they are permitted to access the Temple Mine and seek out the Heat element. They are asked to retrieve lost mining equipment as they do so, in the plot-related but non-mandatory Digging Up the Past sidequest.
In CrossCode
Lea reaches Bergen Village and attends the mandatory briefing with the mayor. After, she is contacted by Emilie and Lukas and invited to join Lukas's guild, the First Scholars. After visiting the guild, Lea and Emilie return to Bergen and head to the Temple Mine for their second dungeon race.
The next day, Lea passes through Bergen Village again on her way to Maroon Valley, and is briefly contacted by C'tron.
Trophies
Peace of Mind

Finish both the Trial of Aspiration and Trial of Progression with all handicaps in under 1:45

Bergen Landmarks

Find all landmarks in Bergen Village.

Bergen Scavenger

Obtain all chests in Bergen Village; see #Chests.
Challenges
All three of the Monk Trials (Trial of Aspiration, Trial of Progression, and the A New Home-exclusive Trial of Ascension) can be repeated. The trials are timed, and for an additional challenge you can deactivate guarding and (in the later two trials) fill the path with respawning ice blocks.
The Preemptive Debugging can also be repeated. However, this challenge isn't scored and doesn't offer rewards, so the only real reason to do so is to fight additional Flintzers.