This article contains SPOILERS for the main story of CrossCode. Proceed at your own risk!
Homestedt is a Location in CrossWorlds. This area is exclusive to the A New Home DLC.
The area is a small village adjacent to Autumn's Rise that was created as a home for Evotars. During the DLC, Lea, Satoshi, Luke, and C'tron all receive homes in the area.
Homestedt
Homestedt is a small settlement made specifically for Evotars. The space was created with the idea to expand it as more Evotars are brought back from the recovered server data from Vermillion Wasteland.
As of now the town counts a humble five buildings and is built beside a small lake close to Autumn's Rise.
Only certified personnel and players are allowed within the borders however as the place is still in development as Instatainment Ltd figures out what to do with the Evotars.
-Encyclopedia entry
Layout
Homestedt is a very small area, consisting of a main village with a few buildings and a wilder area to the south connecting to Autumn's Rise. All of the area is accessible early in the DLC, except for Tobi's House, which unlocks later in the DLC plot.
Connecting Areas
Rooms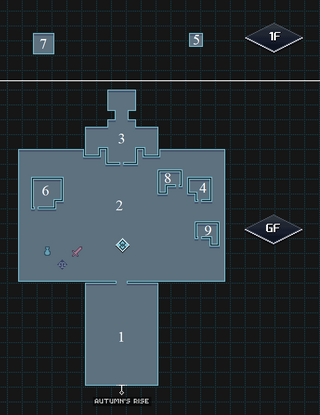 #
Room/Landmark Name
Floor
1
Entrance
GF
2
Centrum

Landmark: Plaza

GF
3
City Hall
GF
4
Lea's Home
GF
5
Lea's Attic
1F
6
Satoshi's Home
GF
7
Satoshi's Attic
1F
8
Luke's Home
GF
9
Tobi's Home
GF
Treasures
Homestedt has 6 chests in total.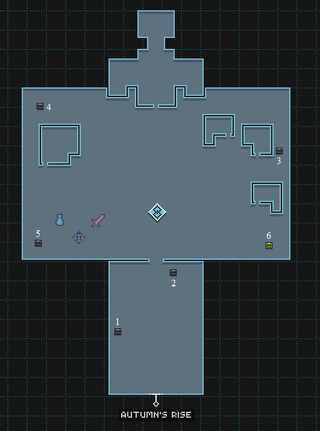 | Acc. | Type | Contains | Location | Info |
| --- | --- | --- | --- | --- |
| 1 | Silver | 4 × Emerald | Entrance | |
| 2 | Silver | 4 × Amethyst | Entrance | |
| 3 | Silver | 4 × Topaz | Centrum | |
| 4 | Silver | 4 × Citrine | Centrum | |
| 5 | Silver | 4 × Ruby | Centrum | |
| 6 | Gold | 1 × Goose | Centrum | |
Botanics
Homestedt shares destroyables with Autumn's Rise.
Shops
There are two shops in Homestedt.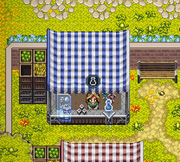 Homestedt Items – Located in Centrum.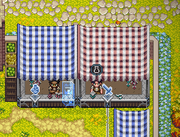 Homestedt Weaponry – Located in Centrum.
Item
Credits
LV59Laser Goggles
104750
LV59Laser Edge
104500
LV59Laser Mail
105000
LV59Laser Boots
104750

LVL↑

Cross Goggles
150000[1]

LVL↑

Cross Edge
150000[1]

LVL↑

Cross Mail
150000[1]

LVL↑

Cross Boots
150000[1]
Role in the Plot
The A New Home DLC begins with Lea being brought back into the game in Homestedt. She meets up with Sergey, Satoshi, Emilie, Hlin, Albert, Lukas and Buggy and receives a tour of the village, after which the Evotar of Lukas, Luke, is also brought into the game. After their reunion, they leave for a meeting at the First Scholars headquarters.
At the end of the day, Lea returns to Homestedt, has a short talk with Luke, and goes to sleep. In the morning, she leaves for the Para island raid.
After the raid, Lea returns to Homestedt, where Sergey reveals that C'tron was spying on Lea during the main game, and that an evotar of him was discovered. Sergey brings C'tron's evotar back into the game, and Lea takes him to try and recover his memories.
Later, Lea and C'tron return to Homestedt and go to sleep. The next day, Apollo and Joern appear, and Emilie freaks out about C'tron's sudden appearance. Apollo challenges Lea to a fourth duel, after they explore the new area, Azure Archipelago.
After the duel, Lea once again returns to Homestedt. After a conversation with C'tron and Satoshi, she leaves to visit the M.S. Solar.
A bit later, Lea returns to Homestedt and has an epiphany about C'tron's identity. She confronts him, and with Sergey's mediation the truth of C'tron's identity is finally revealed. After this unsettling revelation, Lea goes to sleep. The next morning, she is greeted by Shizuka, who tells her about the opening of Ku'lero Temple before leaving with Satoshi to prepare for it. Lea then meets with her friends in the city hall to plan running the dungeon.
After the dungeon, Lea and Emilie go to Homestedt to find C'tron, who reveals his identity to Emilie. However, C'tron suddenly realizes that there is more to his past. With Sergey's assistance, the three decide to return to Vermillion Wasteland to help C'tron remember the truth. The next day, after some optional free time, they meet at C'tron's house and leave to do so.
Returning after their infiltration of Vermillion Wasteland, C'tron's identity is revealed to everyone, and Lea has to make the decision about what happens to him. This leads into the end of the game. Some time later, Lea and her friends are shown having a BBQ in Homestedt, and the statue in the middle of the village is finally revealed to be a statue of Lea.
Gallery
Secrets
One of the Captain's Reports can be found in the City Hall.