An achievement, known as a trophy on PlayStation 4, is a way to gradually guide new players into Minecraft and give them challenges to complete. In Java Edition, a system of advancements accomplishes this instead.
Obtaining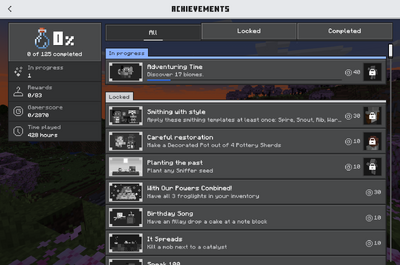 There are 122 achievements in Bedrock Edition.
Every achievement is tracked per user account. They are not tracked separately per world; achievements earned in one world apply to all worlds using that edition and that user account. On most platforms that Bedrock Edition runs on, achievements are logged to a Microsoft account, and so players have to be logged in to their Microsoft account to earn them. On PlayStation 4, Bedrock achievements are logged as trophies to the player's console account, and if logged into a PlayStation Network account and online, they are synced with PlayStation Network but not the Xbox network (even if logged into a Microsoft account).
They are independent of one another, allowing players to get them in any order. Once earned, they cannot be reset.
Every achievement is earned only in Survival mode. If the game is saved while in Creative mode, Flat or if cheats are turned on, the ability to earn achievements/trophies in that world is permanently disabled. Going back to Survival mode or turning off cheats does not re-enable it.
Except on PlayStation 4, a Microsoft account is used to track achievements. The game can be played without being logged in, but achievements cannot be earned when doing so. On PlayStation 4, trophies are logged when logged in to PlayStation Network. Otherwise they are stored locally and get synced once logged in.
Achievements grant the player gamerscore on all platforms except PlayStation 4, totalling 2,820. The achievements also show characters instead of blocks or items.
Some achievements also give rewards, which include emotes and character creator items. They can be unlocked only by completing their respective achievement. There are 75 achievements that offer rewards for their completion.
List of achievements
History
Issues
Issues relating to "Achievement" are maintained on the bug tracker. Report issues there.
Trivia
A player can get both Time to Mine! and Getting an Upgrade at the same time by crafting a stone, iron, gold, diamond, or netherite pickaxe before crafting a wooden pickaxe.
The icon for Echolocation includes the neck model of the dolphin that was showcased in MINECON Earth 2017 but was never added in-game.
The icon for Zombie Doctor uses the original zombie villager design.
Most of the icons use the old textures from before the Texture Update.
The icon for Time for Stew is Hex giving Hal a bowl of suspicious stew.
The name of the achievement The Lie is a reference to the 2007 video game Portal, where the player character is consistently promised a cake as a reward for completing a series of puzzles. During one part of the game, the player comes across a hidden room with mad scribblings on the wall, including the now iconic quote, "The Cake Is A Lie".
The name of the achievement Do a Barrel Roll! is a reference to the 1997 video game Star Fox 64.
The name of the achievement Let It Go! is a reference to the 2013 movie Frozen.
The name of the achievement Whatever Floats Your Goat is a reference to the English idiom "whatever floats your boat".
The name of the achievement Sound of Music is a reference to the 1959 musical of the same name.[3]
Gallery
See also
References