A crafting table is a utility block that gives access to all crafting recipes, including many not available from the inventory's crafting grid.
Obtaining
Breaking
Crafting tables can be mined in any way, but axes are the quickest.
Natural generation
Crafting tables naturally generate in witch huts and igloos. Crafting tables generate in woolen tents outside pillager outposts and in some small village houses.
Crafting
Usage
Crafting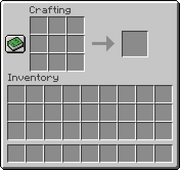 Pressing use on a crafting table opens the 3×3 crafting grid that allows the player to craft many more items than are available with the crafting grid in the inventory, which is only 2×2.
The recipe book is available to the left of the crafting grid (collapsed by default in Java Edition, expanded by default in Bedrock Edition), which stores crafting recipes for reference and one-click crafting.
Fuel
Crafting tables can be used as a fuel in furnaces, smelting 1.5 items per crafting table.
Repairing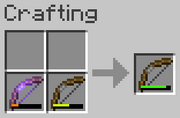 A crafting table can be used to repair damaged tools, weapons, and armor. When two damaged items of the same material are combined side-by-side in the crafting grid they produce a new item with the sum of the durabilities plus a 5% bonus, with a maximum total of 100% durability for that item. Using this method does not require any experience, but removes any enchantments on either or both items. The only way to retain enchantments is to repair damaged items on an anvil.
Note Blocks
Crafting tables can be placed under note blocks to produce "bass" sounds.
Sounds
Data values
ID
Achievements
Advancements
History
Issues
Issues relating to "Crafting Table" are maintained on the bug tracker. Report issues there.
Trivia
The application icon for Java Edition is a crafting table, since 1.6.1. Version 1.6.2 had a strange icon like RubyDung versions. Before that, the icon was the Java icon. After 1.6.2, the icon is changed again. In 2013, the icon was a grass block.
The crafting table is used as a window icon for snapshots, instead of a grass block for releases.
The original inventory screen before January 29, 2010 was the crafting table interface, meaning there was no way of putting on armor yet, and the player could not be seen.
The sides of the table feature a hammer, saw, and pliers, which are not available in the game.
Gallery
See also
External Links