A daylight detector[a] is a block that outputs a redstone signal based on sunlight.
Using it inverts it, causing it instead to output a redstone signal based on the darkness of the sky.
Obtaining
Breaking
Daylight detectors can be broken fairly easily by hand, but can be broken faster by using an axe. Inverted daylight detectors cannot be collected directly; they drop a regular daylight detector. In Bedrock Edition, the inverted sensor may be obtained via inventory editing or add-ons.
Crafting
Usage
Redstone component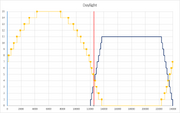 A daylight detector can be used to produce redstone power in proportion to the daylight cycle.
A daylight detector is 0.375 blocks high (3/8ths of a block). Daylight detectors can be moved by pistons.‌ Water and lava flow around daylight detectors without affecting them.
Placement

To place a daylight detector, use the "Use Item/Place Block" control.
A daylight detector can be "inverted", which reverses the power levels produced by the daylight detector. To invert a daylight detector, aim at the placed daylight detector and use the "Use Item/Place Block" control.
Activation

A daylight detector activates when exposed to sufficient daylight (daylight detector mode) or when exposure to daylight is low enough (inverted daylight detector mode).
Behavior

An active daylight detector:
A daylight detector has no effect on other adjacent blocks (for example, it cannot power a block the way a repeater can).
The output signal of daylight detectors in the loaded chunk is updated every 20 gametime‌
/daytime‌ . Block update have no effect on daylight detectors.
Daylight Detector
The daylight detector power level depends on the time of day, the weather, and the internal sky light level.
Inverted Daylight Detector
Using a daylight detector inverts it. However, the output of the inverted detector is not a simple inversion of the daylight detector's output; it uses a much simpler algorithm that depends only on the internal sky light level. Specifically, it outputs a signal strength of 15 minus the current internal sky light level, where values over 15 or below 0 are taken as 15 or 0 respectively. This means that an inverted daylight detector actually outputs a strength of 11 at midnight when it's clear weather, if it has line of sight with the sky. The effects of shade are applied before inverting, so shade increases the signal strength when it isn't already full, and prevents it from reaching zero.
Fuel
Daylight detectors can be used as a fuel in furnaces, smelting 1.5 items per block.
Note Blocks
Daylight detectors can be placed under note blocks to produce "bass" sounds.
Sounds
Data values
ID
Block states
Block data
A daylight detector has a block entity associated with it which stores only its entity ID and position (the minimum data for a block entity). Although the daylight detector's block entity stores no additional data, the block entity ensures that the daylight detector is updated every game tick.
History
Gallery
The 13w01a snapshot image released by Mojang.
Issues
Issues relating to "Daylight Sensor" or "Daylight Detector" are maintained on the bug tracker. Report issues there.
Notes
References