The stonecutter is used to craft stone and copper related blocks in smaller and more precise quantities than crafting, and is more efficient than crafting for certain recipes. It also serves as a stone mason's job site block.
Obtaining
Natural generation
Stonecutters can generate inside stone mason houses in villages. They can also spawn in trail ruins‌ .
Breaking
A stonecutter can be mined with any pickaxe. If mined without a pickaxe it drops nothing.‌[1]
Crafting
Usage
Cutting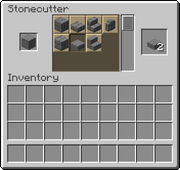 The stonecutter can be used as an alternative to the crafting table to craft most stone related blocks. All of its recipes require just one ingredient and produces one product (in varying quantities). It allows skipping steps to craft certain blocks: for example, a stone block can be directly turned into chiseled stone bricks, but requiring multiple steps with crafting.
Stonecutting is also more efficient than crafting for certain recipes. Stairs crafting is more efficient with a stonecutter than a crafting table, as 6 full blocks are crafted into 4 stairs, while stonecutter yields 1 stair per full block. The recipe for cut copper is even more efficient: with stonecutting, 1 block of copper turns into 4 blocks of cut copper, allowing the amount of copper blocks to be quadrupled.
Changing profession
If a village has a stonecutter that has not been claimed by a villager, any nearby villager who has not yet chosen a job site block has a chance to change their profession to a stone mason.
Note Blocks
Stonecutter can be placed under note blocks to produce "bass drum" sound.
Sounds
Generic
Unique
Data values
ID
Block states
History
Issues
Issues relating to "Stonecutter" are maintained on the bug tracker. Report issues there.
Trivia
Even though the iron blade appears to be spinning rapidly, it deals no damage and has no hitbox.
The stonecutter was most likely based on the old Bedrock Edition stonecutter, as it has similar functionality.
Gallery
References
External Links